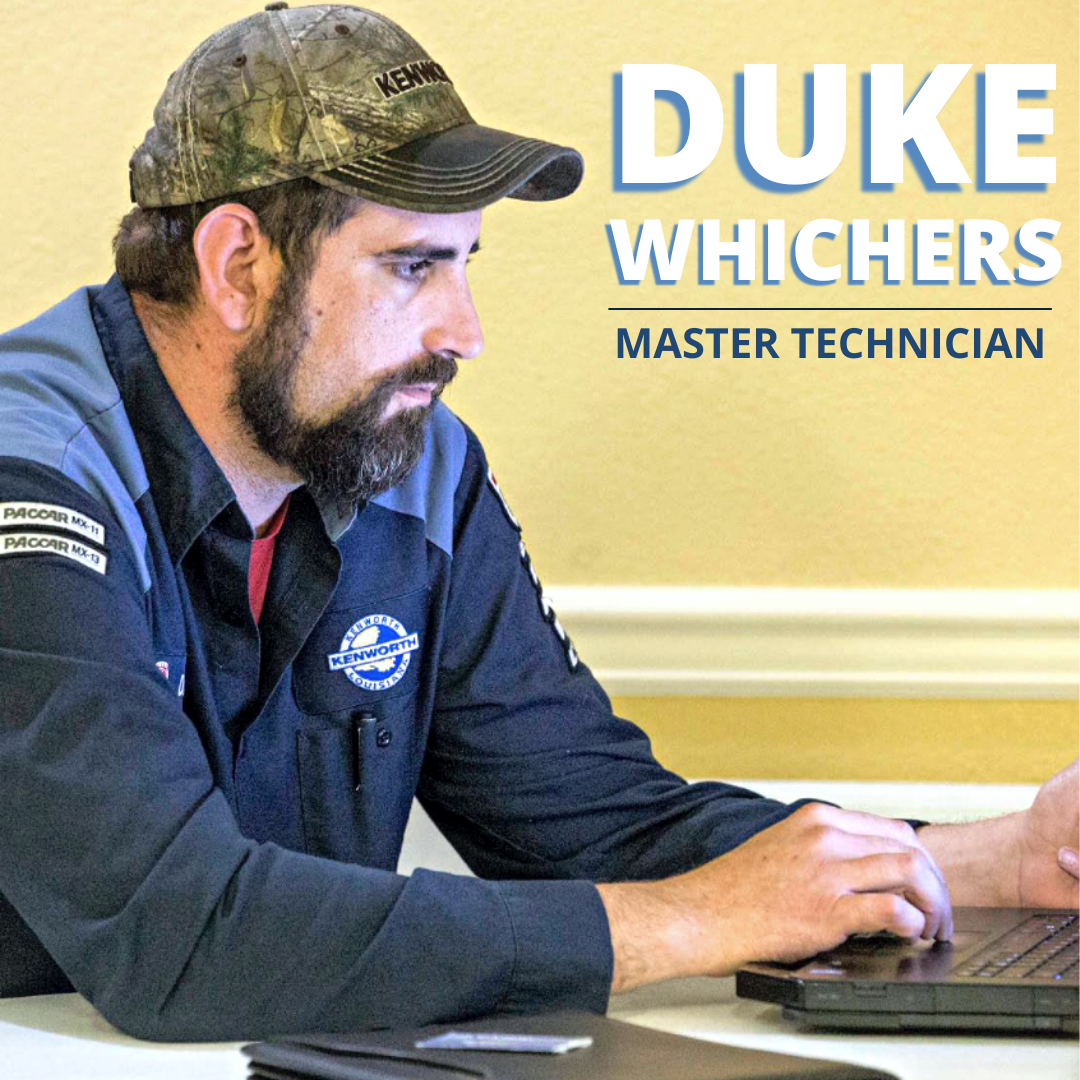 "I would like to talk this month about the DEF quality sensors and their function in meeting EPA regulations."
Duke Wichers | Technical Service Manager
20 Year Experienced Master Tech
---
The EPA mandates that we monitor DEF quality, and in doing such, we need to do it twice for verification. Chassis built on 01/01/2016 and newer has a quality sensor installed into the tank. This sensor is a smart combo sensor; it does three things, tank level, tank temperature, and DEF quality. By smart I mean it is data-linked to the ECM's that control engine operation and it only has 4 wires going to it. Those four wires are power, ground, CAN hi, and CAN low. This allows the sensor to talk in real-time to the engine ECM and makes diagnostics simple. The quality part of the sensor shoots radio waves inside the tank and the receiver measures how long those waves take to come back to the sensor, thus calculating DEF quality. The verification step to check the sensors' accuracy is done with the inlet and outlet NOX sensors. The ECU looks at NOX conversion to verify the QLS is accurate.
Provided below, is a list of faults that can happen with this system. Diagnostics are straightforward, verify power, ground, and CAN voltage going to the sensor. Can voltage on high and low equal 5VDC and is usually around 2.6VDC on high and 2.4VDC on low. If these measurements check out you need a sensor. Now the question becomes why the sensor failed. DEF freezes around 12*F and will turn to slush before freezing. Paccar runs coolant through the tank to warm the DEF in a defrost cycle. Every key cycle the ECM verifies the coolant valve that controls flow by opening and closing the valve and watching the temperature rise. If the valve does not fully shut it is possible to continue to heat the DEF and convert the urea to ammonia gas, this happens around 130°F. Ammonia gas is highly corrosive and causes major issues in the electronics built into the sensor. When changing the QLS it is required to replace the coolant valve at the same time to prevent future failures. It is also recommended that the coolant flow be checked, see attached charts. 2017 and up systems have a different valve. The supply line will need to be replaced when the valve is changed. Ask your parts rep for the updated parts. Please see your local Kenworth dealer for support related to DEF Sensor issues and parts availability.
---


Fault Codes
PACCAR MX-11 & MX-13 ENGINE
P3899 DEF tank temperature - Data erratic, intermittent or incorrect
P3900 DEF tank temperature sensor - Voltage too low or short circuit to ground
P3931 DEF quality sensor ECU - Internal error
P3932 DEF quality sensor temperature - Voltage too high or short circuit to supply
P3933 DEF quality sensor temperature - Voltage too low or short circuit to ground
P3934 DEF quality sensor concentration - Voltage too high or short circuit to supply
P3935 DEF quality sensor concentration - Voltage too low or short circuit to ground
P3941 DEF tank level sensor - Internal error
P3951 CAN-Time-out from DEF quality sensor
P3938 Tank heater valve - Stuck in open position
CUMMINS ENGINE (INCLUDES PX ENGINES)
1669 After treatment Diesel Exhaust Fluid Tank Level Sensor Circuit - Voltage Above Normal or Shorted to High Source
1685 After treatment Diesel Exhaust Fluid Quality Sensor Circuit - Voltage Below Normal or Shorted to Low Source
1686 After treatment Diesel Exhaust Fluid Quality Sensor Circuit - Voltage Above Normal or Shorted to High Source
1713 After treatment Diesel Exhaust Fluid Tank Heater - Data Valid But Above Normal Operating Range - Moderately Severe Level
1715 After treatment Diesel Exhaust Fluid Quality - Root Cause Not Known
3868 After treatment Diesel Exhaust Fluid Quality - Abnormal Update Rate
4233 After treatment 1 Diesel Exhaust Fluid Temperature 2 Sensor Circuit - Voltage Above Normal or Shorted to High Source
4234 After treatment 1 Diesel Exhaust Fluid Temperature 2 Sensor Circuit - Voltage Below Normal or Shorted to Low Source
4572 After treatment 1 Diesel Exhaust Fluid Tank Temperature - Abnormal Update Rate
4677 After treatment 1 Diesel Exhaust Fluid Tank Level - Abnormal Update Rate
4739 After treatment 1 Diesel Exhaust Fluid Tank Level Sensor - Root Cause Not Known